Animated All-Star Superman Coming in February from Warner Home Video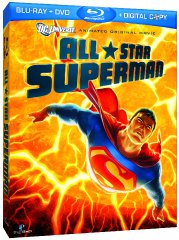 From the press release:
Grant Morrison's beloved, Eisner Award-winning vision of Superman's heroic final days on Earth is brought to exquisite animated life in All-Star Superman, the latest entry in the popular, ongoing series of DC Universe Animated Original Movies coming February 22, 2021 from Warner Premiere, DC Entertainment and Warner Bros. Animation. The highly-anticipated, full-length film will be distributed by Warner Home Video as a Blu-Ray™ Combo Pack and 2-Disc Special Edition DVD for $24.98 (SRP), as well as single disc DVD for $19.98 (SRP). The film will also be available On Demand and for Download.
In All-Star Superman, the Man of Steel rescues an ill-fated mission to the Sun (sabotaged by Lex Luthor) and, in the process, is oversaturated by radiation – which accelerates his cell degeneration. Sensing even he will be unable to cheat death, Superman ventures into new realms – finally revealing his secret to Lois, confronting Lex Luthor's perspective of humanity, and attempting to ensure Earth's safety before his own impending end with one final, selfless act.
The celebrity-packed voice cast is headed by James Denton (Desperate Housewives) as Superman, Christina Hendricks (Mad Men) as Lois Lane, and Anthony LaPaglia (Without A Trace) as Lex Luthor. The stellar cast includes seven-time Emmy® Award winner Ed Asner (Up) as Perry White, Golden Globe® winner Frances Conroy (Six Feet Under) as Ma Kent, Matthew Gray Gubler (Criminal Minds) as Jimmy Olsen and Linda Cardellini (ER) as Nasty.
Arnold Vosloo (The Mummy), Catherine Cavadini (The Powerpuff Girls), Finola Hughes (General Hospital), Alexis Denisof (Angel), Obba Babatunde (That Thing You Do!), Michael Gough (Batman) and John DiMaggio (Futurama) round out the voice cast.
Based on the Eisner Award-winning DC Comics series/graphic novel of the same name by Grant Morrison with illustration by Frank Quitely, All-Star Superman is executive produced by animation guru Bruce Timm and directed by Sam Liu (Justice League: Crisis on Two Earths) from a script by acclaimed comics writer Dwayne McDuffie (Justice League: Crisis on Two Earths).
All-Star Superman 2-Disc Special Edition DVD features approximately 1 1/2 hours of exciting extra content, including:
Feature film (est. 75 min)
Sneak Peak at Green Lantern: Emerald Knights, the next DC Universe Animated Original Movie
Featurette: "Superman Now" – In a moment of inspiration, Grant Morrison was provided an opportunity to revamp the Man of Steel into something modern, something more relevant for today's audience. This is the story of All-Star Superman – where it all started, and what it came to be
Two bonus episodes from animated television series handpicked by Bruce Timm
All-Star Superman Blu-Ray™ Combo Pack will include approximately 2 1/2 hours of intriguing bonus features, starting with all of the content available on the 2-Disc Special Edition DVD and adding:
Featurette: "Incubating the Idea" – A conversation with Grant Morrison
Audio Commentary: Bruce Timm and Grant Morrison
All-Star Superman Digital Comic Book
Standard and high definition versions of the feature film
Digital copy on disc of the feature film
"The All-Star Superman comic was the work of two immensely talented creators at the absolute top of their game," said Geoff Johns, Chief Creative Officer, DC Entertainment. "Grant Morrison and Frank Quitely's All-Star Superman is one of those modern classics, and I can't wait to see it brought to life as an animated film."
"Grant Morrison's fascinating comic vision comprised all the aspects of a truly great film – action, drama, fantasy, romance, sacrifice and hope – and the animation team of Bruce Timm, Sam Liu and Dwayne McDuffie have passionately translated that vision into an enthralling movie experience no Superman fan can resist," said Hersin Magante, WHV Marketing Director of Family and Animation. "As the next entry in the ongoing series of DC Universe Animated Original Movies, All-Star Superman stands as a shining example of the creative heights possible from the partnership of Warner Premiere, DC Entertainment, Warner Bros. Animation and Warner Home Video."
Related posts: