It's Thor Versus Hercules on The Super Hero Squad Show Tomorrow!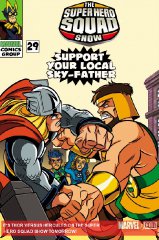 From the press release:
The jaw-dropping second season of The Super Hero Squad Show continues on Saturday at 6:30AM Eastern with an all-new episode! It's Thor battling Hercules in a contest of champions on Olympus and the Mayor wants to sell the pay-per-view rights. But if one of the Squad's most dangerous villains has his way, he's going to be the one cashing in…by taking over Asgard and Olympus. Can Thor and Herc work out their differences or will the bad guys get the win?
Plus, don't miss the all-new Super Hero Squad comic book series, jam-packed with your favorite Marvel heroes and all-ages action, in comic shops now!
Tune into the Cartoon Network at 6:30 AM on Saturday to "Hero Up!" with your favorite characters in the Marvel Universe—or any other—in an all-new episode of The Super Hero Squad Show!
To learn more about The Super Hero Squad Show, please visit www.superherosquad.com and www.marvel.com !
Related posts: