Image Comics Announces Same-Day Sellout of Morning Glories #1
From the press release:
GLORIOUS MORNING
Image Comics announces same-day sellout of MORNING GLORIES #1 at distribution level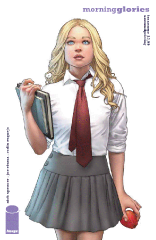 Berkeley, CA - 11 August 2021 - Image Comics proudly announces the distribution-level sellout of the first issue of Nick Spencer's MORNING GLORIES, drawn by Joe Eisma with covers by Rodin Esquejo. The second printing of the book Newsarama calls "a trippy, foreboding read that is definitely something unique on the stands" will be available September 1.
"I feel so lucky that MORNING GLORIES has gotten such stupendous support," exclaims Spencer. "Joe and Rodin are doing a bang up job with the art and covers, and the response is beyond compare. I hope that readers stick with the series — I promise an abundance of electrifying twists and turns!"
MORNING GLORIES: Morning Glory Academy is one of the most prestigious prep schools in the country. But behind its hallowed doors, something sinister and deadly lurks. When six brilliant but troubled new students arrive, they find themselves trapped and desperately seeking answers in a place where nothing is what it seems to be!
MORNING GLORIES #1 Second Printing, a 44-page full-color comic book for $3.99, will be available September 1, 2010.
Image Comics is a comic book and graphic novel publisher founded in 1992 by a collective of best-selling artists. Image has since gone on to become one of the largest comics publishers in the United States. Image currently has five partners: Robert Kirkman, Erik Larsen, Todd McFarlane, Marc Silvestri and Jim Valentino. It consists of five major houses: Todd McFarlane Productions, Top Cow Productions, Shadowline, Skybound and Image Central. Image publishes comics and graphic novels in nearly every genre, sub-genre, and style imaginable. It offers science fiction, romance, horror, crime fiction, historical fiction, humor and more by the finest artists and writers working in the medium today. For more information, visit www.imagecomics.com.
Related posts: