Heroic Age: One Month to Live Arrives in Stores & on the Marvel Comics App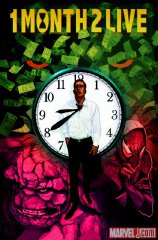 From the press release:
In a world of unlikely heroes, Dennis Sykes is about to become Marvel's unlikeliest, in an event that brings together the entire Marvel Universe! This September, Heroic Age: One Month To Live #1 begins a five-issue weekly event and each issue will debut the following week on the Marvel Comics app! An all-star creative team—including Rick Remender, Stuart Moore, Rob Williams, John Ostrander and more—brings you the story of an accident which gives Sykes incredible super powers…and a 30-day death sentence. Now, Sykes will leave his mark on the world, and he's prepared to go through Spider-Man, the Fantastic Four and Avengers to complete his final journey!
"From the moment we read the script and saw the first pencils, we knew we had a special book in Heroic Age: One Month To Live," said David Gabriel, Marvel Senior Vice President of Sales & Circulation. "With so many major Marvel heroes guest-starring, this is the perfect book for current fans and new readers, which made it a natural to fit on the Marvel Comics app shortly after it hits stores."
Everyone is the hero of their own story…but not every hero is a good guy. Don't miss a single issue of the gripping Heroic Age: One Month To Live, on-sale in September at comic shops and on the Marvel Comics app.
Preview:
HEROIC AGE: ONE MONTH TO LIVE #1 (JUL100583)
Written by RICK REMENDER
Penciled by ANDREA MUTTI
Covers by MIKE FYLES
Rated T+ …$2.99
FOC—8/12/10, On-Sale—9/1/10
Related posts: