SDCC 2010: DnA Announce Rocket Racoon & Groot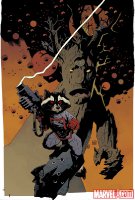 During Marvel's Cosmic panel at SDCC today, Dan Abnett and Andy Lanning revealed that the popularity of Guardian of the Galaxy has spawned a spin-off book, featuring fan-favourite characters, Rocket Racoon and Groot!
Rocket Racoon & Groot will be a four-issue mini-series, written by Dan Abnett and Andy lanning, and will hit shelves starting in January 2010. No artist has been announced for the project yet, but issue one will feature an amazing cover from none other than Mike Mignola.
Abnett and Lanning were hesitant to reveal too much about the events of the upcoming series, for fear of revealing details about the conclusion to their universe spanning epic, The Thanos Imperative:
"What you have to remember about The Thanos Imperative is that anything may happen, all bets are off. We warned readers that this was going to be the big one, and that no one and nothing was safe, and we meant it. If Thanos and/or the other big bads end up destroying the universe, then that's just what will happen. Actually, we haven't told the guys at Marvel that yet. Maybe we should have. If that's what the story demands, then the Marvel Universe will end. We're sure they'll be fine with that. They'll have to see it's artistically necessary, right?"

"Anyway, there's no guarantee that Rocky, Groot or any of the Guardians will survive IMPERATIVE," adds Lanning. "We're not going to spoil things by confirming they're going to. In fact, they probably won't. So this story might not be taking place after IMPERATIVE. But, at the same time, it's not some inconsequential piece of out-of-continuity fluff. This story is locked into our cosmological continuity, rest assured."
When quizzed about what what the series will be about, Abnett quipped that:
"Well, it's Rocket and Groot. It's a talking raccoon and a walking tree. They are friends. Things happen. Groot says, 'I am Groot.' Sorry, was it a trick question?"
What they were willing to say about the title was that the plot will feature the pair coming up against an enemy that only they can deal with:
"The menace is insane," promises Lanning. "It's absolutely core to the origins of both of [our heroes]. They need to draw upon both of their backgrounds in order to have a hope of defeating it. Or surviving. Or not going mad. Or all three. Or at least any two of the three above."
The writers ended by telling fans that given the uncertain outcome of The Thanos Imperative, they hope that Rocket Racoon & Groot will give readers a fitting farewell to two of their favorite heroes-or a daring glimpse into their uncharted futures.
"This is going to be a serious blast," promises Lanning. "It is going to be funny,  any series spotlighting this pair is bound to be, but it's not going to be the knockabout silliness you might expect. This is a serious cosmic action thriller with serious cosmic action thrills and serious gags. And a talking raccoon and a walking tree."
Related posts: