SDCC 2010: The DEA Seizes All Stock of Judge Dredd Megazine #300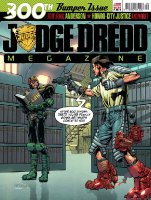 Quaequam Blag! News is coming out of San Diego tonight that the US Drug Enforcement Agency have seized all copies of Judge Dredd Megazine #300 that Rebellion publishing had shipped over from the UK, to sell at San Diego Comic-Con 2010.
The DEA provided no reason for the seizure, but Rebellion are hoping to resolve matters, in order to get copies in the hands of Thrill hungry convention goers.
I have contacted Tharg's minions, to get the official line on the situation, but until then, we'll just have to assume that this is all down to Thrill suckers, trying to stop Tharg from spreading the word of the galaxy's greatest to all those US nonscots!
Related posts: