Comixology Announces Highly Anticipated Sequel to Box 13
From the press release:
COMIXOLOGY ANNOUNCES HIGHLY ANTICIPATED SEQUEL TO SELF COMMISSIONED DIGITAL COMIC BOOK, BOX 13
Zuda and Harvey-Award Winning Creators David Gallaher and Steve Ellis Reunite for comiXology's Second Independent Digital Comic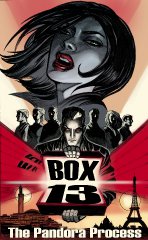 06.17.2010 – (New York, NY) – comiXology, provider of the leading digital comic book platform, today announced the upcoming launch of BOX 13: THE PANDORA PROCESS, the highly-anticipated sequel to its self commissioned digital comic book, BOX 13. Available on the Comics by comiXology mobile and web app, BOX 13: THE PANDORA PROCESS marks the return of Zuda and Harvey-Award winning creators David Gallaher and Steve Ellis for comiXology's second independent digital comic.
Hunted by both the police and the mysterious group, investigative reporter Dan Holiday and assistant Olivia race to find the other victims of cruel childhood experimentation. Each thrilling chapter brings Dan closer to the truth as he discovers other boxes just like his throughout the country and the world. Holiday must travel to Paris, London, Morocco, Africa and many more exotic locales in order to find his 'siblings' in the experiments - each one possessing more talents than him, each one a major influencer in the world of arts, entrainment, and politics. Teaming with a ragtag group going by the moniker Nursery, Dan will use his books and writing as a guide to discover that his 'siblings' have just as many problems as he does — and are infecting their arts and speeches with the same kind of symbols found in those mysterious boxes.
"The long anticipated wait for the BOX 13 sequel is finally over," said David Steinberger, CEO of comiXology. "David and Steve's creativity and gift for story telling is evident in BOX 13: THE PANDORA PROCESS. I think fans will agree once reading it that the release was worth the wait."
BOX 13: THE PANDORA PROCESS will be available on Comics by comiXology late this summer. Mobile readers can download the app for the iPad, iPhone or iPod Touch for free from the the iTunes App Store at itunes.com/apps/Comics, while web readers will be able to pick up the sequel on Comics by comiXology for the web at Comics.comiXology.com. Fans of the original of BOX 13 series can now also purchase the graphic novel at major book retailers and comic book shops.
About comiXology
Recognized as a leader in digital technology development within the comic industry, comiXology continues to expose a wide-range of readers to the world of comics through quintessential comic resource comiXology.com and related applications. With more than 1,700 comics available, from over 35 publishers, the Comics by comiXology iPhone and iPad app provides a seamless comic book experience for fans. Through comiXology's Retailer Services and the comiXology app, readers can connect directly to local retailers to pre-order their favorite publications. comiXology is digitally transforming the relationship between comic book readers, retailers and publishers while staying true to the industry's rich history. For more information, please visit www.comixology.com.
Related posts: