2000 AD Nominated for Six Categories in the 2009 Eagles Awards!!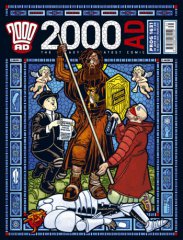 Did you know that 2000 AD has been nominated in six categories in this year's Eagles Awards? Well, of course it has, it is after all, the galaxy's greatest comic book! Really, it should have been nominated in all categories, but Tharg decided to give some lesser beings a look it this year, and only accepted six nominations. How considerate of him!
So, what are the categories in which you can vote for Tharg's mighty organ? Here you go:
Favourite British Colour Comic - 2000 AD
Favourite Publisher – Rebellion
Favourite Continuing Story of 2009 - Judge Dredd: Tour of Duty
Favourite Cover Published in 2009 - Prog 1631
Favourite Website - 2000ADonline.com
Favourite Editor – The one and only Matt Smith!
2009 was an amazing year for 2000 AD, and they deserve your vote in each and every one of those categories. I'm not just saying that because they printing one of my articles in 2009, well, maybe a little…
In case you wee wondering, the image on the right is the prog 1631 cover (nominated for best cover), featuring a stained glass image of Dirty Frank, from the Low Life strip. The image was drawn by the inimitable D'Israeli
You can vote in the awards, here: http://www.eagleawards.co.uk/vote.aspx
Related posts: