Elephantmen #25 Set to Feature Tons of Guest Artists!
From the press release:
A MAMMOTH SPECIAL ISSUE
Some of the industry's best artists contribute to ELEPHANTMEN #25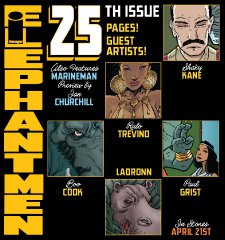 Berkeley, CA - 30 March 2021 - Richard Starkings' ELEPHANTMEN turns 25 (issues, that is) in style! Each page of the issue is drawn by a profoundly talented guest artist, representing some of the best talent in comics.
The superstars contributing to ELEPHANTMEN #25 include (in order of appearance in the issue): Tim Sale (Batman: The Long Halloween), Moritat (Elephantmen, The Spirit), Gabriel Bautista (Popgun), Duncan Rouleau (Metal Men, The Great Unknown), Sheldon Vella (Kill Audio, Supertron), Dave Gibbons (Watchmen, Martha Washington), Dougie Braithwaite (Justice), Gary Erskine (Dan Dare), Steve Buccellato (Battle of the Bands), Whilce Portacio (Spawn, Image United), Ian Churchill (Hulk), Shaky Kane (The Bulletproof Coffin), Raul Trevino (Final Incal), Boo Cook (Judge Anderson), Paul Grist (Jack Staff), Ladrönn (Final Incal), Marian Churchland (Beast), André Szymanowicz (Sushi Nachos), David Hine (The Bulletproof Coffin, Strange Embrace), Chris Burnham (Nixon's Pals) and Aaron Kuder, Brandon Graham (King City), Dan McDaid (Jersey Gods), Tom Scioli (Godland), Pia Guerra (Y the Last Man), Axel Medellin (50 Girls 50), and Rob Steen (Flanimals).
ELEPHANTMEN #25: THE BIG PICTURE is told entirely in splash pages and chronicles the history of the Elephantmen from one man's point of view, making it a great jumping-on point for new readers!
ELEPHANTMEN #25 (DEC090405), a 32-page full color comic book for $3.50, will be in stores on April 21, 2010.
Image Comics is a comic book and graphic novel publisher founded in 1992 by a collective of best-selling artists. Image has since gone on to become one of the largest comics publishers in the United States. Image currently has five partners: Robert Kirkman, Erik Larsen, Todd McFarlane, Marc Silvestri and Jim Valentino. It consists of four major houses: Todd McFarlane Productions, Top Cow Productions, Shadowline and Image Central. Image publishes comics and graphic novels in nearly every genre, sub-genre, and style imaginable. It offers science fiction, romance, horror, crime fiction, historical fiction, humor and more by the finest artists and writers working in the medium today. For more information, visit www.imagecomics.com.
Related posts: