Dark Horse Announces C2E2 Domo Qee Exclusive!
From the press release:
DARK HORSE ANNOUNCES C2E2
CONVENTION EXCLUSIVE!
COLLECTORS REJOICE OVER ALL-NEW DOMO QEE!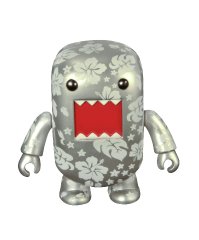 MARCH 4, MILWAUKIE, OR—Dark Horse Deluxe, the product arm of Dark Horse Comics, has announced a special exclusive variant in their popular line of toys based on fashion and viral superstar Domo. The Domo Qee figure is unique to the Hong Kong–based toy company Toy2R and has been a massive hit since the line was launched in 2009.
The debut Chicago Comic and Entertainment Expo (C2E2) will be held at McCormick Place, located at 2301 South Lake Shore Drive in Chicago, Illinois. Dates are April 16–18, 2010.
The convention exclusive features Domo covered with a Hawaiian-style print, setting it apart from previously released figures in the series. Only 1,200 of this special variant have been manufactured, and they will be made available to both casual fans and collectors at the Dark Horse Comics booth in the exhibit hall on a first-come, first-served basis.
"We made a Domo Qee exclusive for Comic-Con International in San Diego last summer," Dark Horse's vice president of product development, David Scroggy, recalled. "We were surprised to find it had sold out by the end of the first day of the show. We made even fewer of them this time around, and as this promises to be a very well-attended first-time event, we advise attendees to drop by early if they are interested in owning one."
The release of the C2E2 variant closely follows the on-sale date of the second "mystery box" series of Domo Qee toys, which are scheduled for release on March 31, 2010. This "blind-box" assortment features figures individually packed at random. The only way to know which is inside is to purchase it! In the Domo blind-box assortment, figures are sold in counter displays of fifteen, and each display box of fifteen figures is packed into a master carton of four cases.
The special two-inch version of the lovable mascot turned iconic viral superstar from Japan's NHK television network is growing in popularity in the United States. Dark Horse was an early licensee of Domo, under the auspices of licensing agency Big Tent Entertainment, and has already produced sold-out limited editions of Domo as various sizes and colors of flocked vinyl figures, stationery, journals, and sculpted magnets. Party lights, sticky note books, and other new Domo items are on tap for summer.
Starting from a very unusual place as an advertising icon, Domo's unique look and personality have catapulted the character from four hundred television spots in Japan into one of the Internet's biggest sensations, sparking worldwide recognition. As the poster child for personalized, user-generated content, Domo has been able to transition from popularity within Japan to a worldwide following, spawning countless fan-made images, websites, and videos, along with a first-ever licensed product line including plush, toys, fashion, and collectibles selling at major trend retailers nationwide.
About Qee
Qee (pronounced "key") is a collection of designer toys created by Hong Kong–based company Toy2R, which was founded by Raymond Choy in 1995. Qees are produced in limited numbers and are highly collectible. Many contemporary artists and designers from Asia, Australia, Europe, North America, and South America have designed figures. Domo is the mascot of NHK Television in Japan, and is breaking out worldwide as animation, toys, publishing, and apparel.
About Big Tent Entertainment, LLC
Big Tent Entertainment, LLC (bigtent.tv) is an entertainment company specializing in the integrated development and management of media brands. Formed in 2002, the company manages a portfolio across both traditional and new media while focusing on brand strategy, community building, viral marketing, licensing, and retail merchandising. Big Tent currently serves as the worldwide (ex-Asia) marketing and licensing company for fashion and viral sensation Domo as well as the North American agency of record for a number of properties including: Discovery Kids, the leader in educational content for children; Telemundo, a leading producer of high-quality content for Hispanics in the U.S. and audiences around the world; TOKYOPOP, the world-renowned manga publisher and global pop-culture brand; Crusty Demons, the masters of freestyle motocross; Purple Ronnie, U.K.'s most successful licensed character; and PixFusion, a global leader in personalization products.
About Dark Horse
Since 1986, Dark Horse Comics has proven to be a solid example of how integrity and innovation can help broaden a unique storytelling medium and establish a small, homegrown company as an industry giant. The company is known for the progressive and creator-friendly atmosphere it provides for writers and artists. In addition to publishing comics from top talent like Frank Miller, Mike Mignola, Neil Gaiman, Janet Evanovich, Gerard Way, and comics legend Will Eisner, Dark Horse has developed such successful characters as the Mask, Timecop, and SpyBoy. Additionally, its highly successful line of comics and products based on popular properties includes Star Wars, Indiana Jones, Buffy the Vampire Slayer, Aliens, Conan, Mass Effect, Serenity, and Domo. Today, Dark Horse Comics is the largest independent comic-book publisher in the United States and is recognized as one of the world's leading publishers of licensed comics material.
Related posts: