Comic Review - BPRD: King of Fear #2
BPRD King of Fear #2 is a Dark Horse Comics release, which is written by Mike Mignola and John Arcudi, with artwork by Guy Davis, colours by Dave Stewart, and a cover Mike Mignola. The 32-page comic was released on February 10th, 2010, and costs $2.99.
The Story

In 'King of Fear' the BPRD have just returned from the events of 'Black Goddess', during which they, aided by the ghost of Lobster Johnson, freed Liz from the grasp of Memnan Saa. During this arc, the team discovered that the Frogs are back, and they have teamed up with the Red Dwarves, and are planning world domination. Liz and the team have no time to relax, and go straight back into the field, to the Ural Mountains, to try and end the Frog monster threat permanently. Liz is greatly changed, after these recent events, and we find that she's a much colder person, and greatly removed from the group.
While Liz and Abe lead a platoon of agents and soldiers into the Hollow Earth, Kate Corrigan tries to juggle work with romance. She travels to Austria to explore the ruins of Hunte Castle — the haunted Nazi fortress where crime fighter Lobster Johnson died and Hellboy fought the Conqueror Worm — where she hopes to place Lobster Johnson's ghost to rest and make him free the spirit of Johann Kraus.
The Rating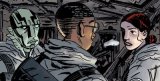 Mike Mignola and John Arcudi are weaving an epic story here, which began with 'The Warning', continued through 'Black Goddess', and is set to conclude in 'King of Fear'. Really though, this story has much deeper roots, and draws on events as far back as 'Hollow Earth'. For this reason, it's probably not the best jumping on point for new readers, but for the constant reader, the story is incredibly rewarding! The issue is well plotted, and as well as moving the overall story along, with the excursion into the Hollow Earth, Mignola and Arcudi give us a smaller story, in the form of putting Lobster to rest, which is also rewarding on a single issue basis.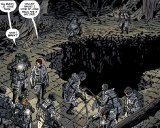 The book is full of wonderful character moments, and we get some brilliant emotional writing, particularly in the scenes involving Kate and Bruno. It really cuts to the core of Kate's character, in that she's a normal character in a very abnormal world, and she refuses to let Bruno into her life, because she doesn't want to expose him to the world of monsters and ghouls she inhabits. It's absolutely brilliant writing, and for me really sums up what I love about the series - that with all of the grand events occurring, and the world plunging into madness and destruction every five minutes, Mignola and Arcudi still find time to continue to develop these characters, and further flesh them out.
The best thing about this whole issue though, is that Lobster Johnson finally gets a fitting end. Lobster is one of my favourite BPRD characters, possibly because he's so mysterious, and we didn't really get to know much about him until the Lobster Johnson miniseries. In BPRD proper, he just seems to occasionally pop up at important moments, and mysteriously changes the course of events! Anyway, the ending that lobster gets doesn't really put his soul to rest, but it's a far more fitting ending. I won't spoil it for those who haven't read it, or are waiting on the trade, but if you are a fan of lobster, it'll really make you smile.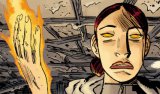 The artwork on this issue is by Guy Davis, who has been drawing BPRD since 'A Plague of Frogs' (previously he illustrated the short, 'Dark Waters'). To me, Guy Davis is just the perfect artist for this series, I can't imagine seeing Abe,  Johann and everyone else drawn by someone else. His linework is intricate and detailed, and his inking is rich, with beautiful brushwork. His characters have a great emotional range, and it's always easy to know how the character is feeling, by their facial expressions and their gestures (except for Johann, of course). He also has an amazing ability to perfectly render all of the crazy stuff that Migola and Arcudi throw at him, like frog monsters, giant robots leveling a city, and whatever else comes into their wide imaginations! He's an incredibly talented artist, and if you've never read his graphic novel, The Marquis, then I demand you go out and buy a copy, right this instant!
BPRD: King of Fear #2 is another fantastic issue of one of the best comic book series on the shelves. Mignola and Arcudi deliver a brilliant script, filled with great character moments, and Guy Davis illustrates the story with breathtaking artwork. This is essential reading for every comic fan out there, it doesn't get better than this!
Rating:
Related posts: