Pat Mills' Requiem Vampire Knight Receives an English Translation by Panini UK, and Mills Signs at Forbidden Planet on September 19th
Requiem Chevalier Vampire (French for Requiem Vampire Knight) is a French language, Franco-British comic, published in France by Nickel Editions. The series is written by Pat Mills (Charley's War, Marshal Law, and much work in 2000 AD) and has artwork by Olivier Ledroit (Sha, The Black Moon Chronicles).
Requiem Chevalier Vampire has been published in France since November 2000, and Mills & Ledroit are currently up to volume nine of the series, with with a three-volume spin-off series called Claudia Chevalier Vampire (French for Claudia Vampire Knight).
The series has previously translated into English and serialised in the U.S. edition of Heavy Metal magazine. However, the latest English translation by Panini UK is the first full translation of the original text to be publish in separate trade paper back volumes. Each volume of the Panini UK reprints will comprise of two books of the original French version of the comic. Therefore, once Panini have published their initial two TPB run of Requiem on September 10th, they will have published the equivalent of four books of the French edition of the series.
Pat Mills has informed me that he will be doing a Requiem signing at Forbidden Planet, London on September 19th, and also says that next year he hopes to do a co-signing with project artist Olivier Ledroit.
Ledroit and Mills previously worked together on another French language comic called Sha (a future detective story), which recently came out as a graphic novel from Heavy Metal in the U.S.
The Story
The story of Requiem: Vampire Hunter is set in a world called Résurrection, which appears to be a lot like the traditional depiction of hell. In Résurrection people are re-incarnated as monsters, according to the sins of their life. The lowest ranks are formed by zombies, whilst vampires form the elite of the society and are the ruling class. The more a person was cruel in their life, the better they are rewarded on Résurrection. The world of Résurrection appears similar to Earth, but everything appears to be the opposite from the way it is on Earth i.e., land has replaced the oceans, and the traditional continental landmasses are replaced by seas of perpetual fire. People do not age in Résurrection, but instead are constantly rejuvenating until they become a foetus and are ultimately forgotten; however, their memory follows the traditional cycle, and is "lost" as people get younger. In order to avoid madness and total loss of their minds during this process, Résurrection's residents are addicted to a drug based on black opium.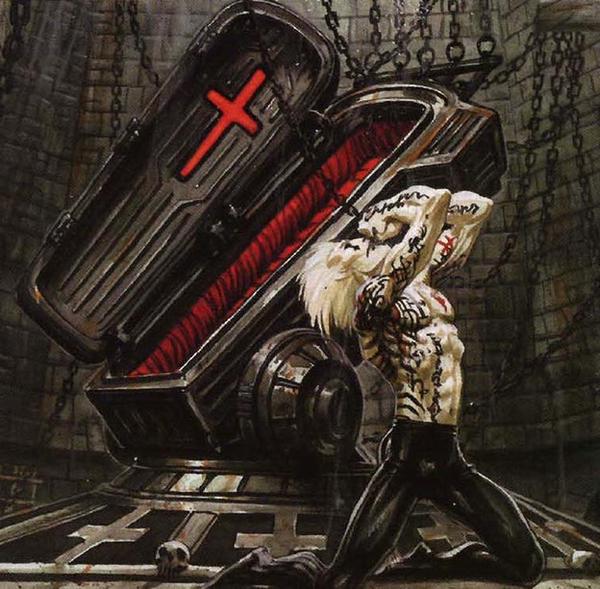 The protagonist of the story is a German soldier named Heinrich Augsburg, a German soldier during the second World War. In his life, Heinrich met a lovely woman called Rebecca, and they promised to love each other eternally. One day, Rebbecca revealed herself to be a Jewish. Heinrich was shocked, but their love endured, and they continued their meetings. Eventually, Rebbecca was taken away by the gestapo. Heinrich still loved Rebbecca, but he also loved his country, so he did not try to rescue her, and turned a blind eye. Heinrich tried tried desperately to forget Rebbecca, and committed many war-time atrocities to try and remove her image from his mind. Whilst facing the Soviet Army on the Eastern Front, Heinrich was killed by a woman he raped. He died, but that was not the end of him.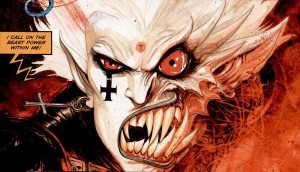 After his death, Heinrich was sent to Résurrection, and upon arrival was attacked by a mob of robbers. During the confrontation he met a vampire called Otto von Todt and the two became friends. Otto soon revealed that he is a vampire and explained that Heinrich is now also a vampire. As the story progresses, Heinrich discovers more of the world of Résurrection, including its peoples and politics.; however, he is only interested in retrieving his long lost love, Rebbecca.
Buy more Pat Mills Books at my Amazon Affiliate store, and help support a starving comic journalist
Related posts: