Spider-Man: Turn off the Dark Producers Officially Announce Retooling and New Director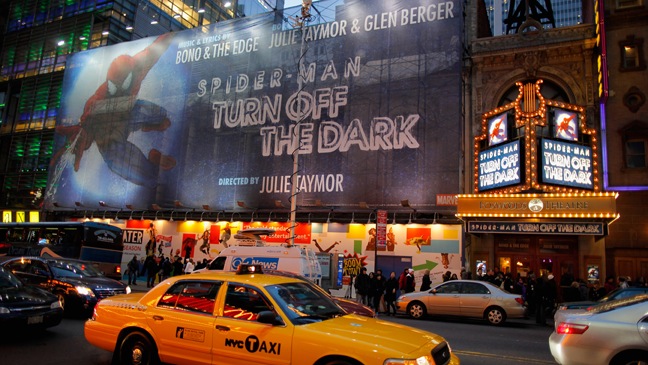 Yesterday, I shared the rumour that Julie Taymor was off the Broadway production of Spider-Man: Turn off the Dark, and that the opening had been pushed back another 3 months, to make major changes to the plot (see here). Well, today, the producers have released an official statement confirming the fact that the show will now not open until the summer, and that director Philip William McKinley will be coming onboard to take over Taymor's day-to-day responsibilities.
What does this mean for the ill-fated musical? Does anyone actually care at this point? I know I don't!
Official press release:
New York, NY – Lead producers Michael Cohl and Jeremiah J. Harris announced today that SPIDER-MAN Turn Off The Dark has a newly expanded creative team in place. The team will be implementing a new plan to make significant and exciting revisions to the production. Opening night (previously set for March 15, 2021) has been rescheduled to an evening in early summer, 2011. This amended schedule will allow the time necessary to execute the plan, which will include revisions to the script.

The additional time commitment required by this new plan will make it impossible for director and co-book writer Julie Taymor to continue on in her day-to-day duties with the production. Philip William McKinley and Roberto Aguirre-Sacasa have joined the creative team to help implement new staging and book rewrites, respectively. McKinley has vast experience directing technically complex productions on Broadway and beyond. Aguirre-Sacasa is both an acclaimed playwright and a noted writer of Spider-Man comic books. The expanded creative team also includes musical consultant Paul Bogaev (Tarzan, Bombay Dreams, Aida, Sunset Boulevard) and sound designer Peter Hylenski (Elf, Scottsboro Boys, Rock of Ages, Shrek), both of whom have already been working on improving the musical arrangements and sound quality (respectively) over the past few weeks, thereby vastly enhancing the audience experience.

Producers Cohl and Harris said, in a joint statement, "Julie Taymor is not leaving the creative team. Her vision has been at the heart of this production since its inception and will continue to be so. Julie's previous commitments mean that past March 15th, she cannot work the 24/7 necessary to make the changes in the production in order to be ready for our opening. We cannot exaggerate how technically difficult it is to make such changes to a show of this complexity, so it's with great pride that we announce that Phil McKinley is joining the creative team. Phil is hugely experienced with productions of this scale and is exactly what SPIDER-MAN Turn off the Dark needs right now."

Bono and The Edge added, "Julie is a truly gifted and imaginative director. This is an epic ride, and the standing ovations we have seen from the preview audiences have confirmed our absolute faith in the project. We are listening and learning and, as a result, we have a couple of new songs we are very very excited about putting into the mix. All of us on the creative team are committed to taking SPIDER-MAN to the next level. We are confident it will reach its full potential and when it does, it will open."

Featuring direction by Tony® Award-winner Julie Taymor (The Tempest, Across The Universe, The Lion King), music and lyrics by 22-time Grammy® Award-winners Bono and The Edge, a book co-written by Taymor and Glen Berger (Underneath The Lintel) and one of the most iconic title characters of all time, SPIDER-MAN Turn Off The Dark is the most ambitious production ever undertaken on Broadway and finds astonishingly fresh ways to tell a story inspired by over 40 years of Marvel comic books. The show follows the story of teenager Peter Parker, whose unremarkable life is turned upside-down when he's bitten by a genetically altered spider and wakes up the next morning clinging to his bedroom ceiling. This bullied science-geek suddenly endowed with incredible powers soon learns, however, that with great power comes great responsibility as villains put both his physical strength and strength of character to the test.
Related posts: