James Kochalka to Be Appointed Vermont's First Cartoonist Laureate!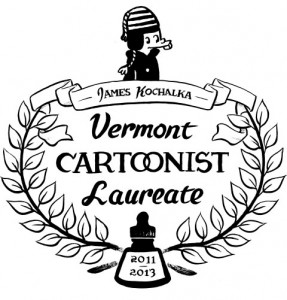 I just found out, Top Shelf's blog, that it has been announced that James Kochalka will be named the Cartoonist Laureate of the state of Vermont. This apparently makes him the first Cartoonist Laureate in the continental US, with Chad Carpenter of Alaska being the first ever in the US.

Kochalka will accept the position on March 10th, an event that will be marked by a day-long celebration, with events in Burlington, Montpelier, Springfield, and White River Junction. All events will be free and open to the public. Details will be forthcoming, announced on cartoonstudies.org.
Kolchaka is the man behind such comics and graphics novels as the Monkey vs. Robot series, SuperF*ckers, the all-ages series Johnny Boo and Dragon Puncher, the daily diary strip American Elf. I have to say that I'm not overly familiar with his work, which is something that I intend to rectify shortly, because looking at his American Elf strip, it's instantly apparent that he's a very talented individual!
Top Shelf have a extensive catalogue of his work available on their site, which you can find here!
Official press release:
White River Junction, Vermont—James Kochalka will be appointed Vermont's first cartoonist laureate on Thursday, March 10, 2011.
"A cartoonist laureate is the kind of thinking outside-the-box that Vermont supports. Cartooning promotes literacy and literature, two things we can't have enough of," stated Vermont Governor Peter Shumlin.
Like Vermont's poet laureate, the cartoonist laureate is a person whose primary residence is Vermont, whose work manifests a high degree of excellence, who has produced a critically acclaimed body of work, and who has a long association with Vermont. James Kochalka was born in Springfield, Vermont in 1967 and graduated from the University of Vermont in 1989. He now lives in Burlington with his wife and two sons.
"In recognizing the literary and artistic merit of a medium that has truly come-of-age, Vermont affirms the cartoonists' international impact on social cultural and political issues. In doing so, it has also become a safe haven, if not a Mecca of sorts, for all who are passionate about the art form," noted Alex Aldrich, Executive Director of the Vermont Arts Council.
According to The Center for Cartoon Studies director James Sturm, "Whether they are funny, philosophical, or naughty, James Kochalka brings a childlike intensity to all of his work. With his diary comic he has influenced countless cartoonists and has forever altered the landscape of cartooning." Kochalka began his daily diary comic on October 26, 1998.
The Center for Cartoon Studies, an internationally renowned cartooning school located in White River Junction, Vermont, conducted the selection process. James Kochalka will commemorate significant Vermont events in comics and serve as an ambassador for cartooning—an art form that engages readers of all ages. Kochalka will serve a three-year term.
"I love being a cartoonist and I love being a Vermonter. I am honored to be able to combine the two," said James Kochalka.
In recognition of the appointment, a day-long celebration will take place March 10, with events in Burlington, Montpelier, Springfield, and White River Junction. All events will free and open to the public. Details will be forthcoming, announced on cartoonstudies.org.
Despite its small size, Vermont has had a disproportionately large impact on contemporary cartooning. Celebrated cartoonists Alison Bechdel, Harry Bliss, Steve Bissette, Jason Lutes, Ed Koren, and Rick Veitch call Vermont home and The Center for Cartoon Studies is attracting the next generation of talent like Joe Lambert and Colleen Frakes to the state.
In 2008, Alaskan cartoonist Chad Carpenter was recognized  as Alaska's Cartoon Laureate at the Alaska State Fair in Palmer.
For more information on James Kochalka, visit: americanelf.com
Related posts: