Bluewater's Glee and Lady Gaga Comic Book Bios Sellout and Get Reprinted as Graphic Novels
From the press release:
GLEE AND LADY GAGA COMIC BOOK BIOS SELL OUT: GETTING GRAPHIC NOVEL ENCORE
The latest biography comic offerings from Bluewater Productions, "Fame: Cast of Glee" and "Fame: Lady Gaga" have sold out. This extends its record to seven biography comic book title sell outs in the past six months.
Bluewater will not be authorizing a second, single-issue printing. Instead, the Vancouver, WA-based comic book publisher will be adding expanded story content, new covers, pin-ups and other illustrated extras as part of a 40-page graphic novel submission for each title.
"We have proven there is a definitive market for this style and tone of comic book," said Darren G. Davis, president of Bluewater, "It goes beyond curiosity seekers and fan bases of a particular person. We are simply pleased to be creating something that resonates with the comic-reading public."
Released in mid-December and early January respectively, "Fame: Cast of Glee" and "Fame: Lady Gaga celebrate the lives, careers and achievements of its subjects. Both books were written by CW Cooke. Ben Bradi handled the art duties for the "Glee" book while Dan Glasl penciled the Gaga offering. In "Fame: Cast of Glee" takes a close look at the lives of the actors and creative talent that have made the FOX Broadcasting's series "Glee" such a runaway hit. "Glee" fans can learn about the paths that show mainstays Lea Michele, Matthew Morrison, Jane Lynch, Cory Monteith and Chris Colfer have taken on their way to fame. The comic also highlights the career of "Glee" creator Ryan Murphy.
As for "Fame: Lady Gaga," it is the second Gaga-themed comic Bluewater has produced. The first being a stream of conscious fan interplay with this latest version concentrating more as a straight biography of the outrageous pop diva.
The graphic novels for both titles should be available in April 2011. Each will retail for $7.99 and be available through traditional retail outlets, comic book shops and several online venues including Amazon.com and the Barnes and Noble and Borders online stores. Amazon has these for pre-order by clicking here:
FAME: Glee - The Graphic Novel
Walmart has picked up the 1st graphic novel biography in this format based on Justin Bieber and will be in stores in the middle of February.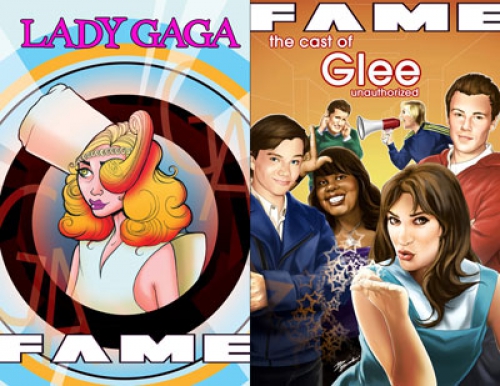 Related posts: