Thanks to Andy Bloor for Designing the New Hypergeek Logo!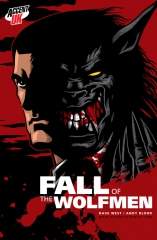 You may have noticed a few changes around the site lately, most of these changes have been on the back end, but there have also been a few layout and aesthetic changes. The biggest of these changes is the sexy new site logo that you can see at the top of the page. Previously, the site was pretty grey and bland, and nothing about it said 'comic book', to rectify this, I replaced the background GIF with a nice blue colour, and tried to design myself a new logo. Sadly, my Photoshop skills are somewhat lacking, and I did a rather embarrassing job of it. It looked OK in my head, but I cringe looking at it now! Therefore, I put a call out on Twitter, to see if anyone could help me, and Andy Bloor swooped in and saved the day with a stunning piece of work that gives the site a much more comic booky feel!
So, I just wanted to thank Andy for the design, and make sure that he gets the credit for it, and not me. If you are not familiar with Andy's work, Andy is a British graphic designer and the resident Art Director for Accent UK, where he oversees all the design and production for Accent's books. He is the artist and co-creator (with Dave West) of The Wolfmen, and its sequel, Fall of the Wolfmen, and is a regular contributor to Accent UK's fantastic yearly anthologies.
As well as his work at Accent UK, Andy has recently illustrated a two-page back-up story in issue #7 of Phonogram: The Singles Club, a story written by Kieron Gillen, with whom he was collaborated several times before.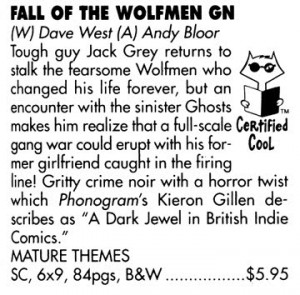 Andy's latest work, Fall of the Wolfmen, is currently available to order from the January 2011 issue of Diamond's Previews magazine, for comics shipping in March 2011, with the order code of Jan110891.
Apparently Diamond have even spotlighted the book as a 'Certified Cool' title, which is pretty impressive.
I can't recommend the book highly enough, and you can read my full review of it here: http://www.hypergeek.ca/2010/12/comic-review-fall-of-the-wolfmen.html
To keep up with Andy's goings on, make sure to bookmark his blog at http://andrewbloor.blogspot.com/
Thanks, Andy!
Related posts: