Lady Mechanika #1 a Sell Out Success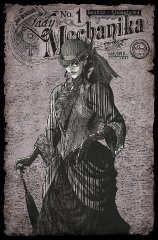 From the press release:
Following on the heels of the sold out second and third printings of Lady Mechanika #0, Aspen Comics is proud to announce Lady Mechanika #1 has also sold out at the Diamond level just days after it's release. Aspen launched the steampunk adventure series Lady Mechanika this past October with the release of the highly anticipated zero issue, and the series has taken off ever since. Series creator Joe Benitez is extremely pleased with the sell out release of the first issue:
"I deeply appreciate all of you who picked up Lady Mechanika #1. I found out today that Lady is going into a second printing. It made me so very proud that we're putting a book out that has so much positive support behind it. To know that people are enjoying the work really makes what we do well worth it and so much more enjoyable. Thank you again."
Lady Mechanika is created, written and drawn by Benitez with colors by Aspen superstar Peter Steigerwald. The thrilling action-adventure features the tale of Lady Mechanika and her search for answers to her true identity, answers which may come with a fatal price—her life. Lady Mechanika #1 was released on December 8th and industry critics have raved it is "absolutely breathtaking," and that "Benitez's vision is so crisp and clear; it sets the book apart and makes it a visual smorgasbord of coolness."
To satisfy fan and retailer demand for the first issue of Lady Mechanika, Aspen is going back to press for a second printing of the red hot Lady Mechanika #1. The second printing will feature a brand new cover by Benitez and Steigerwald and will be available on January 12th. As well, Aspen encourages fans to check with their local comic book shop, as some copies of the first printing of Lady Mechanika #1 may still be available at the retail level.
For more information on Lady Mechanika and Aspen Comics, please check www.AspenComics.com and www.AspenStore.com.
Related posts: