BOOM! Studios Comics on Sale November 17th 2010
From the press release:

11/17/10 Releases!
STAN LEE'S SOLDIER ZERO #2

STAN'S BACK! THE PUBLISHING EVENT OF THE YEAR! Stan Lee, the most colossal force in the history of comics, teams up with BOOM! Studios to deliver a brand new line of superhero comics! The great innovator of our industry brings his inimitable talents back to the direct market in an explosive line of comics that nobody is prepared for! His epic superhero series with Paul Cornell (ACTION COMICS, DOCTOR WHO) and Javier Pina (SUPERMAN, BATMAN) continues in SOLDIER ZERO! Half man. Half alien. All weapon! Stewart Travers struggles to understand his Trauttmann power as he battles against an enemy alien force that has turned Earth into a battlefield!
DARKWING DUCK #6

Now an ongoing series! Darkwing Duck is back, and back, and back and back some more as the city of St. Canard is under siege by an army of Darkwings; thus, making our hero public enemy number-one! However, in order to clear his name he must first defeat an enemy that strikes without warning…can you say bowling ball Darkwing? Hop aboard for danger and deadly doppelgangers in Part 2 of "Crisis on Infinite Darkwings!"
DONALD DUCK AND FRIENDS #360

After a kung-fu catastrophe in Donald's backyard, he awakes to find himself in the role of the duck-billed brawler Tekka-Don. He alone must protect his province from the schemes of Don's dishonorable ancestor, the ignoble Shogun Scrooge-San! But defense is cheap when super-lucky Ronin Gander-Bei comes calling… The high-kicking hijinks continue this month in Part 2 of "Feathers of Fury!"
FARSCAPE (ONGOING) #13
Everything you have read in FARSCAPE and SCORPIUS leads to this! The new year of the Farscape ongoing series starts here. This is sure to be one of the most dramatic for the crew of Moya…if it's not their last. A sprawling new epic from Farscape show creator Rockne S. O'Bannon!
FARSCAPE: SCORPIUS #7
Scorpius has long been known as a force of chaos in the Uncharted Territories. But now, wielding The Kkore's might, he will be known as a force of pure and utter destruction. In his wake entire planets are lost. In his sights: John Crichton.

From Farscape creator Rockne S. O'Bannon, Star Trek novelist David Alan Mack, and Star Trek comics legend Gordon Purcell!
CBGB TPB
The most legendary name in alternative music comes to comics! For decades CBGB was the club that broke acts - like The Ramones, Blondie, Misfits, and the Talking Heads - that changed the world! Now BOOM! Town brings comics' best talent to tell stories of love, music, heartbreak, confusion and rebellion! Featuring a cover from comics' superstar Jaime Hernandez (Love & Rockets)!
MICKEY MOUSE ON QUONDOMAI ISLAND: TPB
Join Mickey Mouse, Minnie, Goofy and Pluto for time-traveling adventure on the mysterious Quandomai Island! Shipwrecked with no way home, the gang uncovers a land beyond imagination, teeming with dinosaurs…and even stranger inhabitants! Can Mickey unravel the island's darkest secret - and get his pals home safe? Written and drawn by modern Mickey master Casty!
FARSCAPE VOL. 2: STRANGE DETRACTORS TPB
First time in trade paperback! TV's Sci Fi masterpiece FARSCAPE returns! Farscape creator Rockne S. O'Bannon continues his creation in comic book form in this second volume of all new FARSCAPE stories. After the events on Hyneria, the crew of Moya find themselves in the midst of a new, mysterious menace. But the crew will learn that their greatest enemies might just be themselves!
DON'T FORGET BOOM! STUDIOS COMICS
ARE ALSO AVAILABLE THROUGH THE
BOOM! STUDIOS COMICS APP!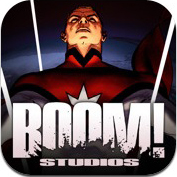 BOOM! Studios Digital Comics can also be found
through any of these fine digital vendors!





Related posts: