BOOM! Reveals Six of the Seven Covers for Stan Lee's Starborn #1
From the press release:
REVEALED!
SIX OF SEVEN
STAN LEE'S STARBORN #1
COVERS!
NEW YORK TIMES BEST-SELLER
CHRIS ROBERSON JOINS
STAN LEE TO EXPAND THE UNIVERSE THIS DECEMBER WITH
STARBORN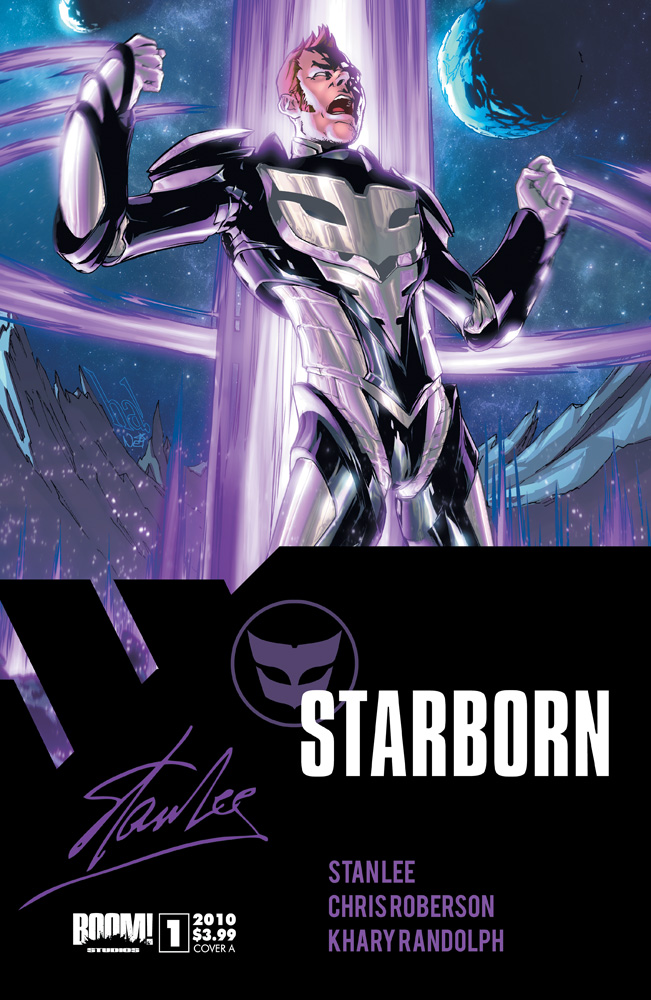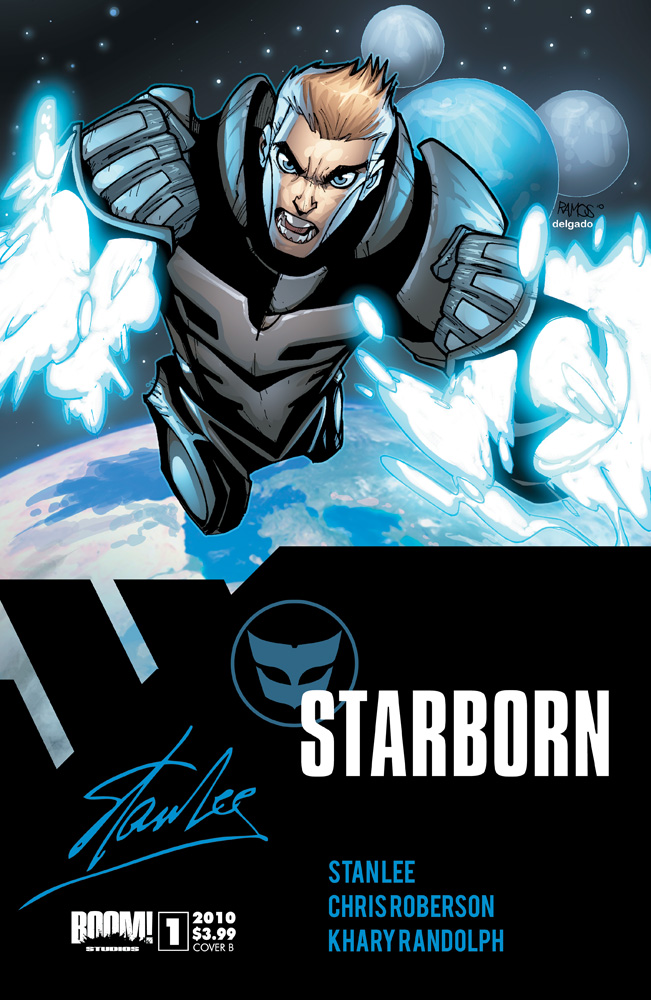 NOT OF THIS WORLD!
COVERS BY GENE HA, HUMBERTO RAMOS AND KHARY RANDOLPH
DRAWN BY KHARY RANDOLPH
The third of three new ongoing series from
Stan Lee and BOOM! Studios!
Don't miss STAN LEE'S SOLDIER ZERO
IN STORES NOW
and
STAN LEE'S THE TRAVELER this November!
October 27, 2021 - Los Angeles, CA – BOOM! Studios and POW! Entertainment unveiled STAN LEE'S STARBORN at a press conference during Comic-Con International 2010. It was there that fans learned that New York Times bestselling author Chris Roberson and SPIDER-MAN artist Khary Randolph would be joining Stan as writer and artist on the ongoing series, STAN LEE'S STARBORN!
Today, six of seven covers for STAN LEE'S STARBORN #1 can be revealed!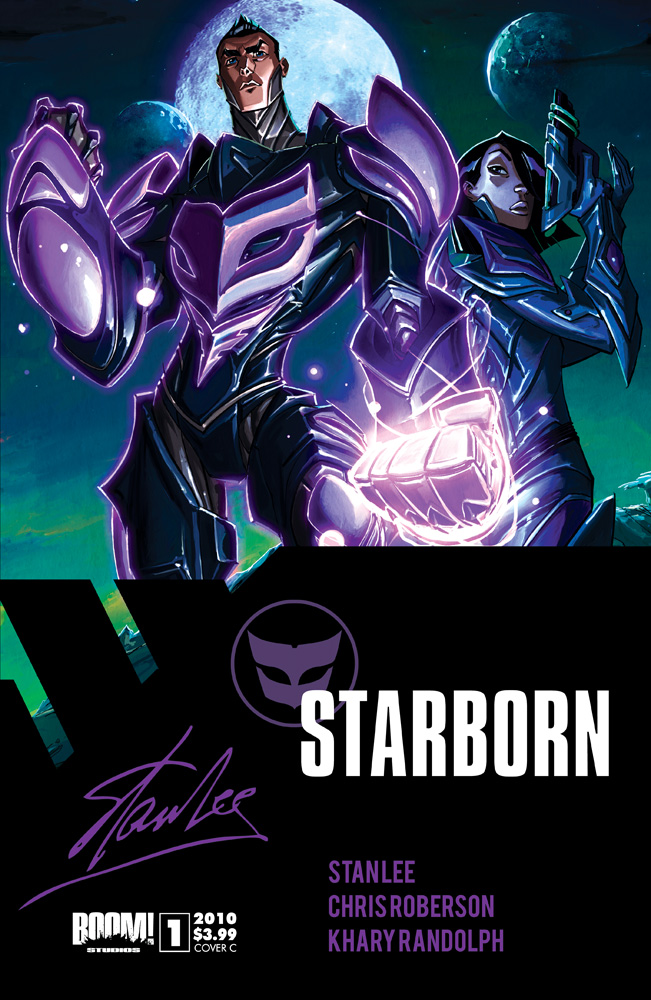 1-in-25 KHARY RANDOLPH
1-in-50 GENE HA
UNDRESSED VARIANT
1-in-75 HUMBERTO RAMOS
UNDRESSED VARIANT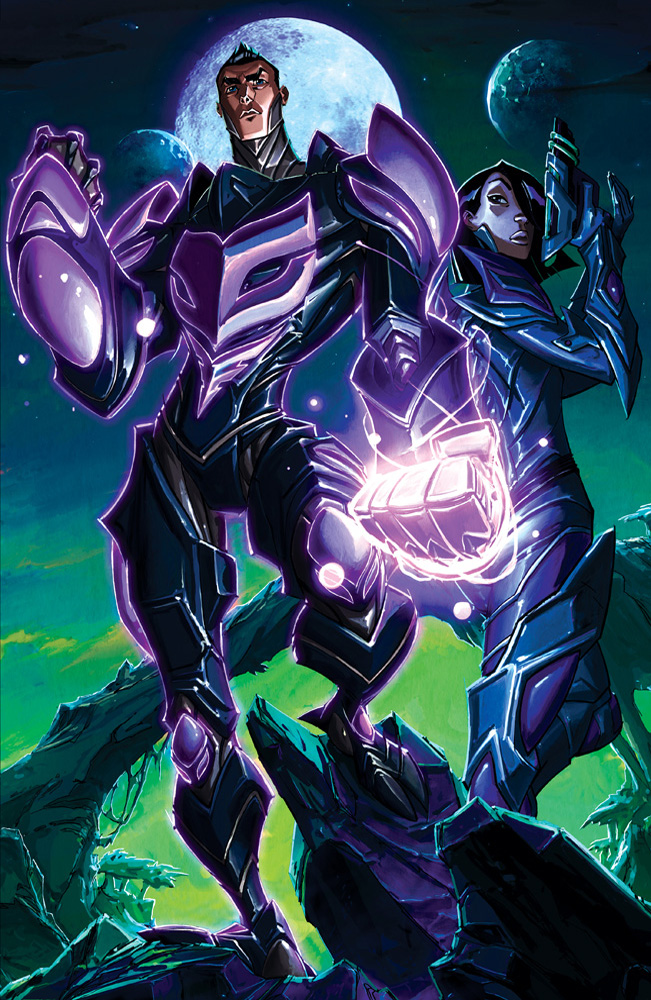 1-in-150 KHARY RANDOLPH
UNDRESSED VARIANT
1-in-300 SIGNED BY STAN LEE VARIANT
TO BE REVEALED SOON!
The December release of STAN LEE'S STARBORN #1 will mark the third of three titles debuting from Stan Lee and BOOM! Studios with STAN LEE'S SOLDIER ZERO #1 in store now and STAN LEE'S THE TRAVELER #1 shipping this November. All three titles were announced by Stan Lee during a press conference at Comic-Con International this past summer. STAN LEE'S SOLDIER ZERO #1 opened to record sales and critical acclaim.
Already premiered in October is STAN LEE'S SOLDIER ZERO. This ongoing series, written by DOCTOR WHO and ACTION COMICS scribe Paul Cornell with art by SUPERMAN artist Javier Pina, tells the story of a wheelchair-bound astronomy lecturer who finds himself in a freak accident that bonds him with an alien weapon of war.
Hitting shelves this November is STAN LEE'S THE TRAVELER. This series, written by Eisner and Harvey Award-nominee Mark Waid (IRREDEEMABLE, KINGDOM COME) with art by AMAZING SPIDER-MAN artist Chad Hardin, features a mysterious new superhero with time-traveling powers battling the Split-Second Men, super-powered assassins from the future. THE TRAVELER ships this November.
STAN LEE'S STARBORN #1 solicitation appears in this month's issue of Diamond Previews letting fans know about this not-to-be missed publishing event of the year.
(Double-page spread from this month's Diamond Previews)
STAN LEE'S STARBORN #1 is written by iZOMBIE's Chris Roberson with art by SPIDER-MAN artist Khary Randolph, the title ships with seven covers, including A & B covers in a 50/50 split and 1-in-25, 1-in-50, 1-in-75, 1-in-150 covers and a special 1-in-300 Stan Lee signed variant cover. This title carries a Diamond Code of OCT100875.
About POW! Entertainment
(Purveyors of Wonder) Entertainment, Inc. (Pinksheets: POWN) An advanced media and entertainment company, POW! was founded by Stan Lee together with award winning producer Gill Champion and intellectual property attorney Arthur Lieberman, Esq. to create, produce and license original intellectual properties. POW! specializes in franchises for the entertainment industry, including animation and live-action feature films, plus television, DVDs, video games, merchandising and related ancillary markets, all of which contribute to global expansion.
About BOOM! Studios
BOOM! Studios (www.boom-studios.com)2009 "Best Publisher" of the year, generates a wide-ranging catalog of multiple Eisner and Harvey Award-nominated comic books and graphic novels featuring some of the industry's top talent, including Philip K. Dick's DO ANDROIDS DREAM OF ELECTRIC SHEEP?, 20th Century Fox's 28 DAYS LATER and DIE HARD, The Henson Company's FARSCAPE, and the original Mark Waid series IRREDEEMABLE. This fall sees BOOM! teaming up with the legendary Stan Lee, creator of Marvel Comics' characters Spider-Man, The Hulk, and The X-Men for a line of original superhero series, the legend's first new superhero creations in nearly 20 years. BOOM!'s youth imprint, BOOM Kids!, is an undisputed industry leader publishing Disney/Pixar's THE INCREDIBLES, CARS, and TOY STORY, as well as Disney's THE MUPPETS, DONALD DUCK, UNCLE SCROOGE and WALT DISNEY'S COMICS AND STORIES. This year, BOOM! Studios celebrates its fifth anniversary.
Related posts: