Win a Free Copy of RIP M.D.!
From the press release:
Will the real Lincoln Butterfield please stand up?
Want to win your own copy of RIP M.D. PLUS a personal caricature drawn by one of Lincoln Butterfield's finest???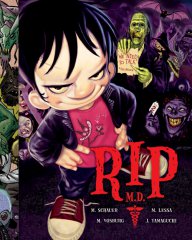 HOW THIS MADNESS WORKS…
PART ONE: VOTE FOR YOUR FAVORITE LINCOLN BUTTERFIELD PICTURE
The artists over at Lincoln Butterfield Animation have all looked deep into their unconscious minds and have each drawn their own repressed image of what they believe Lincoln Butterfield would look like if he/she/it actually existed.
These characters are being posted on their Facebook page (http://www.facebook.com/lincolnbutterfield) Monday 16th for your scrutiny and judgment; all you have to do for the chance to win a free copy of their Graphic Novel RIP M.D. is vote for your favorite Butterfield. Leave a comment underneath the picture of your choice and your name will be placed into a Top Hat (more on that below). The character with the most votes wins. Easy.
PART TWO: THEY PICK A WINNER FROM EVERYONE WHO VOTED
When the election is over, every voter's name will be placed into a Victorian top hat and one name will be pulled from it. This person will win an advanced copy of the graphic novel AND the option to submit their mug shot, which will be transformed into a personal caricature by the artist of the winning Butterfield. Lovely.
A little more about RIP M.D.,
RIP M.D. was written and illustrated by Mitch Schauer, an Emmy® Award winning producer, writer and designer. Comic book veteran Mike Vosburg has brought his innovative, illustrative style to the artwork's inking, and Michael Lessa and Justin Yamaguchi have created a whole new look for RIP M.D. with their cinematic color and special effects expertise.
If you just want to pre-order the graphic novel you can do so by visiting Fantagraphics http://bit.ly/Pre-Order-RIPMD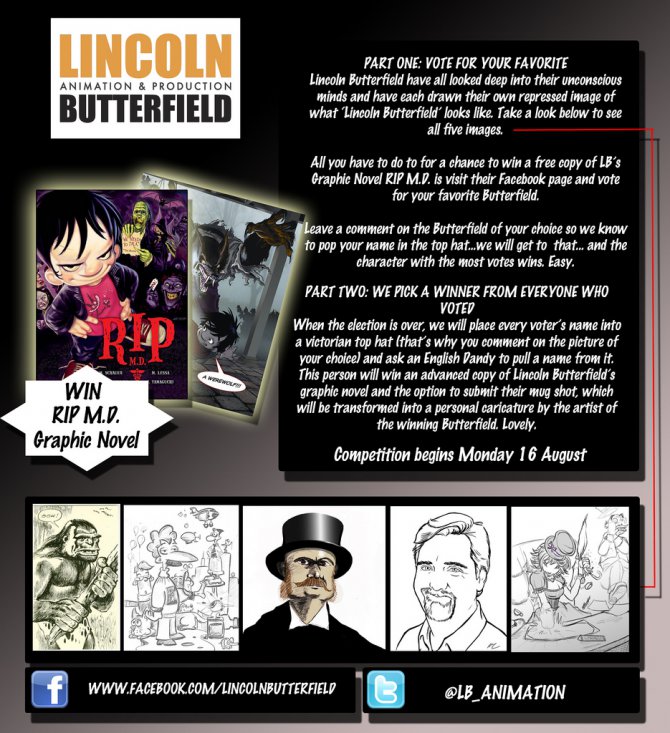 Related posts: