SLG Publishing Presents A Friendly Game
From the press release:
A Dark Diversion in A Friendly Game
New Graphic Novel from SLG in August
San Jose, CA - June 29 2010 - A Friendly Game, a new graphic novel from SLG Publishing coming out in August 2010, is a dark tale exploring the limits of friendship, growing up, and facing the consequences of one's actions. The graphic novel by new creative team Joe Pimienta, Lindsay Hornsby, and Lauren Affe begins with a game, something that friends Todd and Kevin do to pass the time on boring afternoons.
Click cover to see a 10 page preview.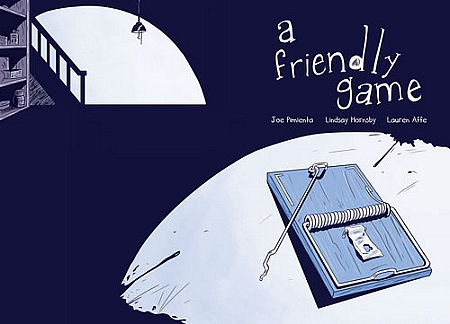 Todd and Kevin start with dissecting a dead mouse that was caught in a trap. Then they move on to a near-dead mouse. What began as natural curiosity turns to cruelty, and a rift forms in the boys' friendship when Kevin resists when Todd wants to escalate the game. Soon, Kevin is entangled in Todd's obsession, having to choose between their friendship and doing what is right.
"We wanted to tell a story about friendship but turn it into a darker narrative about the worst situation the friend could possibly get you into," says Pimienta, who came up with the original concept and penciled A Friendly Game.
SLG Publishing president Dan Vado discovered A Friendly Game when he visited the Savannah College of Art and Design for their "Editors Day" in 2008. After Vado expressed interest in it, the team worked to complete a graphic novel.
"This began as a school assignment," says A Friendly Game writer and inker Hornsby. "It expanded into something much bigger as it received more and more attention from our professors and fellow students, but we still never dreamed of it seeing print until Editors Day."
A Friendly Game will be released in August 2010 and retail for $14.95. Its ISBN is 978-1-59362-200-8 and it can be pre-ordered at comic book stores with the Diamond Code JUN100719. A 10 page preview of A Friendly Game can be found at the SLG website, www.slgcomic.com. A pdf review copy of the entire book is available on request.
Established in 1986, SLG Publishing is a San Jose, California-based publisher of comic books and graphic novels. Some of SLG's more notable comics and creators have included Johnny the Homicidal Maniac by Jhonen Vasquez, Milk and Cheese by Evan Dorkin and Zombies Calling by Faith Erin Hicks.
Related posts: