BOOM! Studios Presents the Complete Kill Audio HC
From the press release:
COLLECTED FOR THE FIRST TIME!
KILL AUDIO HARDCOVER
ON SALE
JUNE 30TH, 2010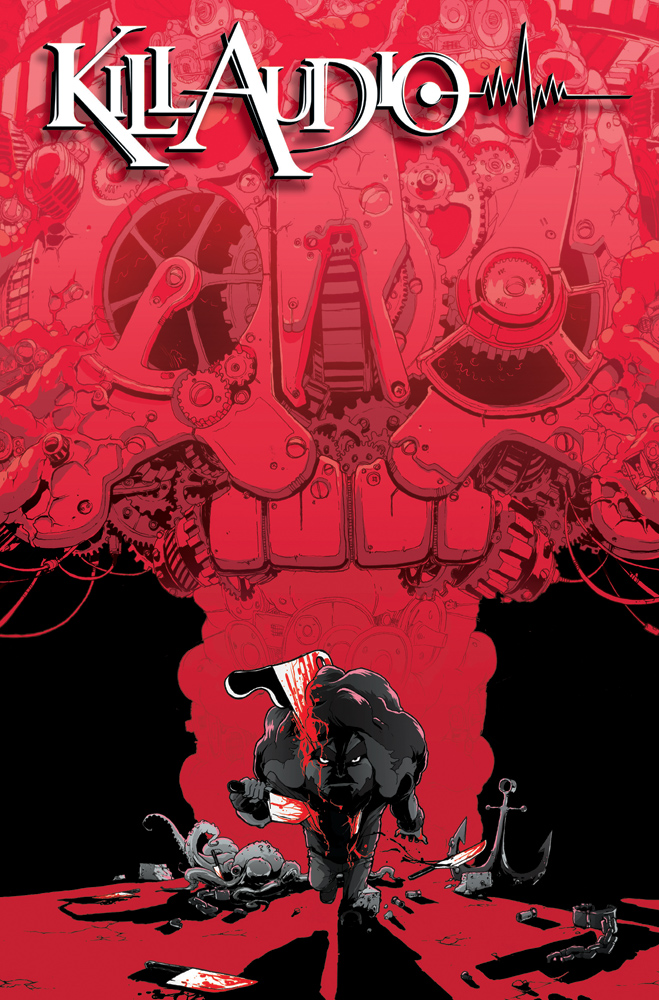 Re-live the mind-warping adventures
of the immortal rock & roll troll on a mission
KILL AUDIO

June 29th, 2010 - Los Angeles, CA - BOOM! Studios is proud to present the completed rock epic KILL AUDIO, co-written by musical mastermind Claudio Sanchez and Chondra Echert, with brain-melting art by Mr. Sheldon, collected for the first time in a stunning hardcover edition! Take a trip back to Sight & Sound with Kill Audio and his eccentric gang of misfits on their mission to stop the music!
"This is one of the wildest books we've ever published!" says Marketing Director Chip Mosher. "Fan support for this book is just as epic as the words and art within, and we're glad to give the fans an edition of this story they'll be proud to own and display."
"In addition to all six issues of the critically acclaimed series, this hardcover includes exclusive content sure to please fans of this far out mythos", Says KILL AUDIO Editor Ian Brill. "An introduction by ELEPHANTMEN creator and Comicraft founder Richard Starkings, an original and illustrated prose story shedding light on the KILL AUDIO supporting cast and even an advice column are just some of the extra material readers can expect, to expand on the already rich world of KILL AUDIO. "
Claudio Sanchez is the lead singer/guitarist of COHEED AND CAMBRIA as well as the celebrated creator of the COHEED AND CAMBRIA mythology, of which he birthed the best selling sci-fi mini-series THE AMORY WARS and the 352-page prose novel YEAR OF THE BLACK RAINBOW (Co-written by legendary author Peter David).  Sanchez steps out of the Amory Wars mythos with a vengeance with KILL AUDIO, which follows the adventures of an immortal little troll who struggles to find purpose in a land where creativity is a controlled substance. When musical creativity spirals into chaos, Kill Audio discovers his life mission. Supported by a wildly eccentric posse and a nemesis hell-bent on proving the rock troll's mortality, Kill Audio takes on ridiculously mismatched musical sub-genres while traipsing across a vivid landscape; a world that could only come from the intense mind of Claudio Sanchez.
Since its release KILL AUDIO has had critics talking about the inventive and exciting new series:
""It's kind of like WIZARD OF OZ if it were envisioned by Hunter S. Thompson. It's Tom Waits singing an Enya song. It's a Pollock painting if Pollock had twelve arms… you can't just say this is a must read book. This is a must experience book." – Aint It Cool News
"…the most bizarrely original comic I've ever read…" – Express Times
"KILL AUDIO is the perfect fix for anyone bored of more and the same at their shop. If you're in need for a laugh and want to see how a story about music plays out in a silent medium, pick it up." – Comics Bulletin
"I could see this becoming the kind of cult hit that, say, JOHNNY THE HOMICIDAL MANIAC was, and with much the same crowd." – All About Comics
"KILL AUDIO comes across as a story that is meant for the comic book medium because of this. This title should be on the "try out" part of everyone's Pull List moving forward." – The FlickCast
"… a great mix of "street comics" and something like JOHNNY THE HOMICIDAL MANIAC…" – Undercover Fanboy
"Regardless of what KILL AUDIO might have to say, this is a delightfully surreal world we are reading about, and readers are helpless to do anything other than simply run with it." – The Outhousers
"Art-wise… the book is a f***** masterpiece." – iFanboy
"KILL AUDIO is a strange, strange book. It's probably the single oddest thing I've been called upon to review in the four years I've written for IGN Comics. What else is to be expected from the mind of Claudio Sanchez?" – IGN
"if you are in the mood for a completely unique, somewhat violent and graphic, well drawn, trippy comic and love music, this might just be the title for you! – Omnicomic
"This is a disturbing work, and I mean that as a compliment. Anyone who's a fan of THE MAXX or of ROBOT CHICKEN should check this out." – Mark Waid (IRREDEEMABLE, KINGDOM COME, Editor-in-Chief BOOM STUDIOS)
"KILL AUDIO scratches just the right itch." – Joe Casey (ADVENTURES OF SUPERMAN, IRON MAN: THE INEVITABLE)
This will scrape the dark matter out of the back of your brain and force feed it back to you." -Richard Starkings (ELEPHANTMAN, founder of Comicraft)
"This is one of the freshest books I have read in years. Mr. Sheldon, his crew and this book are truly ROCK AND ROLL!" – Nathan Fox (PIGEONS FROM HELL, DMZ)
KILL AUDIO comes in a hardbound edition collecting all six epic issues in a stunning foil stamped case wrap. KILL AUDIO Hardcover edition is sold at $24.99 and carries a ISBN code of 9781608860166 and a Diamond Code of FEB100762.
About BOOM! Studios
BOOM! Studios (www.boom-studios.com) is a unique publishing house specializing in high-profile projects across a wide variety of different genres from some of the industry's biggest talents, including Philip K. Dick's DO ANDROIDS DREAM OF ELECTRIC SHEEP?, The Henson Company's FARSCAPE, and the original Mark Waid series IRREDEEMABLE. BOOM! recently launched its youth imprint, BOOM Kids!, with Pixar's THE INCREDIBLES, CARS, and TOY STORY, as well as Disney's THE MUPPETS, DONALD DUCK, UNCLE SCROOGE and WALT DISNEY'S COMICS AND STORIES. This year, BOOM! Studios celebrates its fifth anniversary.
About Evil Ink Comics
Evil Ink Comics is a comic publishing company set up by Claudio Sanchez, the lead singer of progressive rock band COHEED AND CAMBRIA, and also the creator and author of Evil Ink's current projects, KILL AUDIO & THE AMORY WARS.
Related posts: