John Hicklenton Passes Away After a Long Battle with Multiple Sclerosis
John Hicklenton, a British artist, best known for his work in 2000 AD and Judge Dredd Megazine, has passed away at age 42, after a long battle with Multiple Sclerosis.
John was good friends with writer Pat Mills, who broke the news to his fans with the the following message:
John Hicklenton passed away peacefully last week.  His ending was an expected one and he saw it as a triumph over his illness MS.  Amongst his final words  to me were  "MS - you have a week to live, you've met someone you shouldn't have f*****  with".  A great artist and  a true hero.

Pat Mills
There is a tribute thread running on the 2000 AD forums, where fans can express there condolences, and share their memories of John's best artwork.
John Hicklenton was diagnosed with Multiple Sclerosis in 2000. A documentary called 'Here's johnny' was produced about his struggle with the illness, which was launched at the Science Museum on January 30 2008. The film took over 5 years to make and documents his brave and often humorous battle against MS. The film was favourably reviewed by the British Medical Journal for its portrayal of the life of patients suffering from Multiple Sclerosis. To find out more, see: http://www.animalmonday.co.uk/
John Hicklenton was a fantastic and uncompromising artist, and an incredibly brave individual. He will be sorely missed. My heartfelt condolences to his friends and family.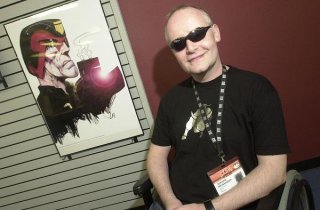 Related posts: