Seventh Character of Stan Lee's NHL Guardian Project Revealed - The Oiler
The sixth character of Stan Lee's NHL Guardian Project has been revealed as The Oiler.
With the Guardian Project, Lee intends to create a superhero to represent each of the NHL's 30 teams. Each Guardian is derived from its corresponding hockey team, complete with special powers representative of each team and city. Every day for the first 30 days in January, the winning Guardians will be revealed at 7 pm CT with an exclusive image designed by legendary comic book artist Neal Adams along with their bio.
To see the previously revealed characters, please go to http://www.hypergeek.ca/tag/guardian-project
To vote on which guardian you want to see revealed next, head to: http://www.facebook.com/apps/application.php?id=123121171084181#!/theguardianproject
The Oiler (Edmonton)
"The Oiler" is serious in a way that only a guy living on the outskirts of the most northern Canadian metropolis can be. He's gritty and tough like the roughneck oilrig workers he mostly associates with. He loves getting his hands dirty and not only doesn't he shy away from hard, physical work, he relishes it. He spends a majority of his time roaming the Northwest Territories. He's most happy when he's exploring the vast northern wilderness.
He does have a lighter side although his superhero buddies don't always get his quirky sense of humor. He's a modern day Cain constantly searching for the wisdom that he's certain the frozen north has to offer.
In stature you'd be hard pressed to find a more impressive Guardian. He's a 10 and a half-foot tall and 950-pound mountain of muscle. Whether it's blasting bad guys with torrents of energized oil, engulfing them in a horrendous blizzard or crushing through concrete walls, the Oiler is one devastating Guardian.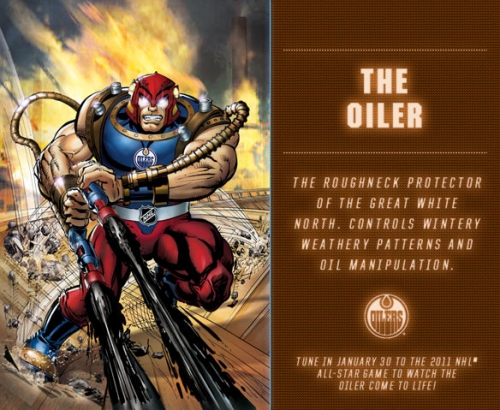 Related posts: